Fencing – Safety and Security, as Well as Added Value
Your needs as a home owner are distinct to your particular circumstances. What type of fence you choose for your backyard or your total property boundary is dependent by just how much your budget plan permits, and your distinct requirements for example, kids, family pets, and what amount of personal privacy you desire from your next-door neighbors. We'll sit down with you and discuss your choices and identify what fencing is right for you. Our fencing service has decades of experience supplying exceptional service and finishing fence projects in Sussex County, and we'll share our knowledge in finding out what style of fencing you really need. Metal or aluminum fences, wood fences, semi or full privacy fencing, 3 rail fencing, vinyl fencing including white picket fencing – we can practically build any style of fence you require.
Backyard Works Inc. has always stuck to a basic approach: "give the best quality, service, and product to each and every single customer." Look at installing a new fence for your residence. When you pick us as your local fencing contractors, you're picking a reputation for reputable service and top quality work. Our dedication to customer satisfaction has gained the trust of the community here in the Sussex county region and we're happy to put our talents to use on your upcoming project.
Vinyl Fences – A Combination of Looks and Value That's Hard to Beat
While vinyl fencing has been around since the 1950s, it's even more popular right now due to its durability and cost-effectiveness.Vinyl fences built by the professional Backyard Works fence installation professionals can quite easily be a wise, long-term investment decision for Sussex County property owners and business owners. As you can view from our gallery on our site, there are a wide range of vinyl fence types to pick from for your house. For added height and visual appeal, you can also add detailed lattice work to the top of your fence or a custom-made top with a unique geometric style. Because of this, you ought to have no trouble in getting vinyl fence that goes well with and greatly enhances the exterior of your residence or business in Sussex County.
Aluminum Ornamental Fence
Aluminum fencing's amount of resistance to deterioration can make it an superb addition to pool areas as a security fence. An aluminum fence is similarly as reliable as a safety fence, keeping folks out, but likewise keeping youngsters and pets inside the fenced location. Due to the fact that aluminum fencing may be gotten in a number of different styles, they may even be utilized for decorative or cosmetic purposes. Aluminum fences, although quite sturdy, can absolutely not be used for privacy as a result of their high spacing between pickets. Six different aluminum fences are offered by Backyard Works Inc. to give your house the exact appearance that you want.
Fences made from aluminum are commonly utilized for a number of reasons. When it concerns aluminum fence choices we will take very good care of you. Aluminum fencing features several different kinds of products and gives the most reliable long-term market value In our opinion. The most beneficial part is ornamental black aluminum fencing has the look and feel of a traditional wrought iron but isn't high maintenance and will likely not require to be painted in the future. An aluminum fence is much lighter in weight than a fence built with steel or iron. Each of these particular features combine to make aluminum the ideal building material for a great fence for your unique residential or commercial property requirements.
Come see a few of our metal fencing designs personally by paying a visit to our showroom without delay! Our fencing contractors have decades of experience building decorative aluminum metal fences and gates. These stylish fences not only look exceptional, but are heavy-duty and well-built providing security without sacrificing aesthetic attractiveness. We sell premium metal fence building materials that will make certain you take pleasure in your fence for years in the future!
Chain Link Fences – A Protective and Economical Option
Backyard Works Fencing has you covered if you're looking for an attractive chain-link fence for your home, business, sports complex, or anything in between. Call or visit us in Harbeson and Millsboro to talk with one of our fencing specialists about the installation of chain-link fencing! Do you require expert fencing assistance? Please make an appointment with one of our fencing experts to answer all your questions!
Colored coated vinyl chain link fences offer the strength and durability of galvanized chain-link , while also blending with the surroundings, making your landscape more visible than wooden privacy fences.
The fence's vinyl coating protects the steel wire and protects it from exposure to the elements. The vinyl is applied to galvanized chain-link fencing, thereby protecting the fence wire from fading and rusting over time. The coating of vinyl applied on the fence galvanized prolongs the fence's life beyond the galvanized chain link alone and the colour blends better into the surroundings, especially the landscaping and grass, as opposed to galvanized chain-link fencing on its own. Because of the muted color the fence is visible less, and your property stands out more. Backyard Works offers a variety of vinyl-coated chain link fencing options. For more details or a no-cost estimate, call us at 302-703-9888.
With a plethora of chain link fence, it is possible to can add security without blocking the view! One of the primary advantages that chain-link fencing offers is the ability to see through the link which allows you to monitor your children, pets, or even your own property. A less expensive alternative in comparison to Iron Fencing – Chain link fencing is popular among households and companies. It's a great option for tennis courts as well as swimming pool security. Chain-link fences are easy to maintain they last for a long time and appear great.
A chain-link fence can be a great choice whether you need a temporary or permanent fencing solution. It is available in a variety of sizes, materials and designs.
Professional installation of chain-link fencing is fast and straightforward. There are many heights, colors, coatings, and gauges you can pick from. Chain link fencing can add the feeling of security your house. Industrial fencing options are available to secure your home or work place. Cleanup is straightforward – just spray the fence using water! Chain-link fences are a great choice for baseball fields or tennis courts.
Wood Fences – Looks Traditional and Classic
Wood privacy fences are within the price range of a large number of home owners. Thanks to its ability to complement a wide variety of home styles and building materials, wood continues to be a well-liked preference for fences. Traditional wooden fences will still add a vintage touch to your landscape designs. Wooden fences are also reasonably priced to put up and cost substantially less in advance than vinyl fences do. Given that you can paint or stain wood in any shade you want, this building material gives you a broader variety of color options than fences made from vinyl. Wood fences are commonly made of cedar. With a new wood fence, you can better define your property line, give protection to your residence and yard, and increase your curb appeal.
The expense of putting up a wood fence differs depending upon the kind of wood you pick, the height and style of wood fencing you pick, and the condition of your land. To ensure the future condition and appeal of a wood fence, consider potential staining and painting expenses when approximating fencing building prices. Pressure-treated pine is a popular and eye-catching choice that is generally resilient against rot and bugs. Cedar is an added affordable option that could be even more cost-effective than redwood or teak, but a bit more pricey than pine.
Privacy Fencing – Keeps Your Neighbors Eyes Away
Are you installing a fence around a house ? A privacy fence will give your property a unique appearance while still providing a more private barrier. In your most prized location – the backyard – your privacy may be maintained with a privacy fence. Our privacy fencing will certainly shut out prying eyes and help make your backyard into the haven you've always dreamed it could be. Backyard Works Inc.has seven various styles of privacy fencing for you to choose from. Privacy fencing looks great along the borders of backyards, decks, and pools, and they provide a private location for your loved ones and family pets to appreciate your backyard.Privacy fencing adds beauty to the sides of yards, decks, and pools while providing a private space for your loved ones and pets to enjoy. A lattice top is additionally available on privacy fencing, which incorporates a bit of added design allure while additionally providing some space to converse with your neighbors. Our vinyl privacy fences feature glidelock systems, which safeguards your fencing against strong winds. Furthermore, it reinforces the fencing against other intruders, such as undesirable animals in your yard.
We feature a large variety of custom-designed fencing solutions to suit your particular requirements. Our privacy fencing is both attractive and durable, while designed to allow much less light and visibility. We in addition put up charming picket fences that will give just sufficient safety for your garden while also serving to help to keep your pets protected. To help keep little ones, animals, and guests away from your pool and to reduce liability risks, work with us to put up a fence around it. Furthermore, we offer personalized fences to satisfy your distinct requirements.
When you do not wish to totally block out your next-door neighbors, a semi-private fence could be the most ideal alternative. Backyard Works Inc. has 4 different semi-privacy fencing choices that provide privacy, value, and add a ornamental look to your property.
Backyard Works Inc – Your Local Fence and Deck Company
Top quality fences and installation: vinyl, black aluminum metal, wood, white picket, privacy, garden, backyard – and financing too

!

Searching for the best contractors or services near me or in my area who provide great service? Call us!

Need quotes from companies "around me" for your residential home & yard project who install with care and are reputable & reliable? Call us!

Need a highly rated team of professional builders/installers with real reviews who have been working in the industry for 28 years (and counting)? Call us!

About Ocean View, Delaware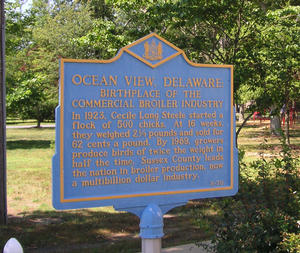 The Town of Ocean View was incorporated on April 13, 1889. Formerly known as Hall's Store, the first Town Council meeting was held on April 20, 1889 with nine elected council members. The history of Ocean View, however, dates back to the colonial era. The present site of Ocean View was originally a tract of 500 acres known as "Middlesex" and granted to Matthew Scarborough under the authority of "Charles, Absolute Lord and Proprietary of the Provinces of Maryland and Avalon, Lord Baron of Baltimore."
Following Mr. Scarborough's death, his land passed into the hands of the Hazzard Family and then into the hands of the Hall family. It was the Hall family who founded the Town of Ocean View. Shortly after 1800, W.S. Hall opened a store on his farm near White's Creek, which was a portion of the old Middlesex Plantation. Following the establishment of the general store, the area became known as Hall's Store. The village that sprang up around the store was composed of families of farmers, watermen, and seamen. In 1822 a post office was established. Following the War Between the States, the name of the village was changed to Ocean View as people discovered the near by beach areas for recreation. It is said that in the late 19th Century one could see the Atlantic Ocean from the second stories of many of the homes in the village.
In 1923, Mrs. Cecile Long Steele raised her first flock of broiler-fryer chickens for commercial consumption establishing Ocean View as the birthplace of the commercial broiler industry. This is Delaware's number one agricultural enterprise.
Although Ocean View is no longer engaged in the commercial growing of chickens, the village has evolved into a residential beach front community that attracts thousands of visitors during the summer season. With a population of 2,039 year round residents, Ocean View in the 21st Century has become a delightful and wonderful Town conducive of a peaceful small town lifestyle.